Anna Sui's Autumn/Winter 2015 collection was inspired by Arts and Crafts movements in Nordic countries. Carl Larsen was a main focus of her research when she began working on this collection. It was also heavily inspired by Mid-Century Scandinavian decorative arts – ceramics, furniture and printed textiles.
On her mood board on Pinterest the description of the board is '
Norwegian Wood, Midnight Sun, Northern Lights, Viking Cruise, Après-ski, Dancing Queen, Wicker Man, Swiss Miss, Snow Bunny…Nanook, Pippi, Thor, Bjork, Asterix…Ibsen, Grieg, Munch, Bergman…'
On her website she states that she wanted the catwalk show to look like a Mythology fairy-tale. As the collection walked down the catwalk, a hippie spirit style was felt. There were tights to match each outfit and beanies with horns for a comical feel.
Below is a few of my personal favorite images from Sui's
Autumn/Winter 2015
catwalk collection mood board. I can use these images as inspiration for creating my Winter inspired look which I will be designing and creating for my timed assessment next week.
This first image is of the band Abba, a pop band which formed in 1972. I think that I could take some inspiration from the 70's for my assessment look. The middle image is a paiting on ceramics by
Bjørn Wiinblad, i chose this image because I can vision it being full of beige, brown, warm oranges and warm pink tones. The last image is of a viking - I think that I could take inspiration form vikings hairstyles to create my look for my timed assessment.
Model Gigi Hadid took to the runway in Sui's collection for this show. Hadid posted an picture on instagram with the caption -
"Finished up NYFW opening @OfficialAnnaSui's beautiful show. One of my favourite beauty looks yet with makeup by Pat McGrath and hair by Garren"
For the show model Hadid had beauctiful loose natural textured waves in her hair, glowing radiant skin and double-winged liner.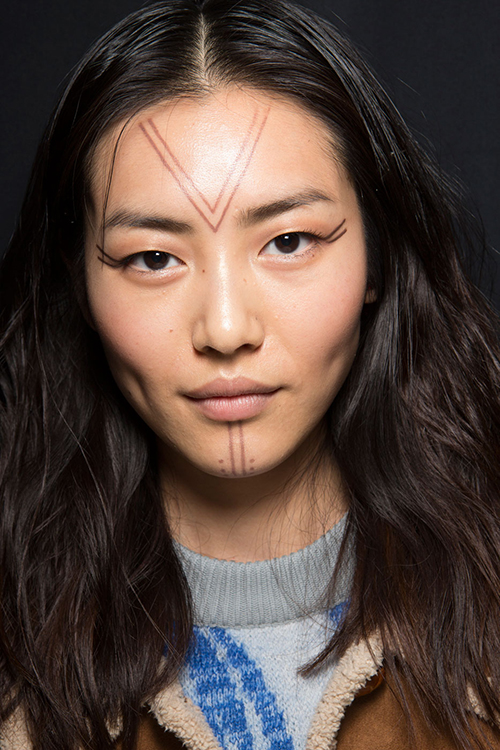 Other models had face tattoo's which were innuit-inspired markings. All of the models had graphic markings on their eyes – two straight pencil lines extending from the outer corners, just like Hadid. Golden glowing skin and beautiful flushed cheeks were also a main feature to create an edgy look.
Hair stylist Garren wanted to use all the models natural texture of the hair and liven it up a bit using a few different texturing products. He wanted to create a warrior-like feel to the look
.
I love the fresh silky look that Pat McGrath created for the show and the hair is really simple yet effective. for my interpretation of a hair and makeup design for the Autumn/Winter '15 Ready-to-Wear show I would like to create something a little warmer using colour to represent this.
Reference
Fall 2015 Mood Board (no date). Pinterest. Available at: https://www.pinterest.com/worldofannasui/fall-2015-mood-board/ (Accessed: 2 March 2015).
Gigi Hadid Rules The Runway With Her 70s Style At Anna Sui (no date). Look. Available at: http://www.look.co.uk/beauty/gigi-hadid-rules-the-runway-with-her-70s-style-at-anna-sui (Accessed: 3 March 2015).
'Models Got Face Tats for Anna Sui's Show' (no date). Beauty Blitz. Available at: http://beautyblitz.com/anna-sui-fall-2015-beauty (Accessed: 3 March 2015).
Style.com (2015) Anna Sui Fall 2015 Ready-to-Wear - Fashion Show - Style.com, YouTube. YouTube. Available at: https://www.youtube.com/watch?v=mnYzxixMASo (Accessed: 3 March 2015).
(no date). Available at: http://www.annasui.com/tc/ (Accessed: 2 March 2015).