In 2013 ASOS released Anna's Minnie Mouse inspired range. I read an interview with Anna being asked about how the collaboration with ASOS came about. Anna found ASOS after seeing a pair of their shoes advertised in a magazine and was instantly fell in love with their website two years ago.
Anna said in the interview that Minnie Mouse had always been one of her style icons. She always dreamt about creating a makeup range inspired by Minnie Mouse and the Duchess of Windsor. The bow, ribbon in the hair with influence of the 30's represents these references. The lipsticks from the Minnie Mouse collection are even moulded to Minnie Mouse's face.
There were also other products of Anna's first released onto ASOS such as makeup sets, skin care products and perfume. Earthy coloured eye shadows and berry red lip colours were strongly featured in her first range that was available to buy from ASOS. The makeup kit that was released was a limited edition tin box, which had a ribbon shaped eye compact and a bold lip colour.
Although the Minnie Mouse collection is no longer available to purchase on ASOS there are many other of Anna Sui's products that are still available. Currently on ASOS there is a limited edition speckled nail polish which is £12, a gel liner £15, a variation texture and colours of lipsticks - £23, concealer on sale £16, variation of colour refill eye shadows - £9, eye brow colour compact £21, liquid foundation on sale £19 and beauty compact mirror £20.
Below is a screen shot of how Anna Sui's products are presented for sales of the ASOS website:
Anna Sui's Spring 2014 makeup collection packaging was very girly and elegant. I think that the way the products have been presented are very appealing. A lady definitely wouldn't be ashamed to be pulling one of these products out of her handbag. The blusher, Blushing Love, is meant to ''perfectly capture the prettiness of a girl in love'' with its cool tones create a soft natural looking base makeup. The dreamy lip crayon style lipsticks are a great and presented very nicely. The Rose cheek colour was available in two limited edition colour palettes, which were Princess Rose (six different pinks) and Magical Rose (shown in the picture below). These products all leave a sheen finish.
I personally love the lip balms that are a ring pendant. Reminds me of being a little girl again when I used to wear a lip balm similar around my finger. This would not be an accessory I would choose to wear everyday however I think that it would be handy for a festival during summertime - especially because of the colours of the balms!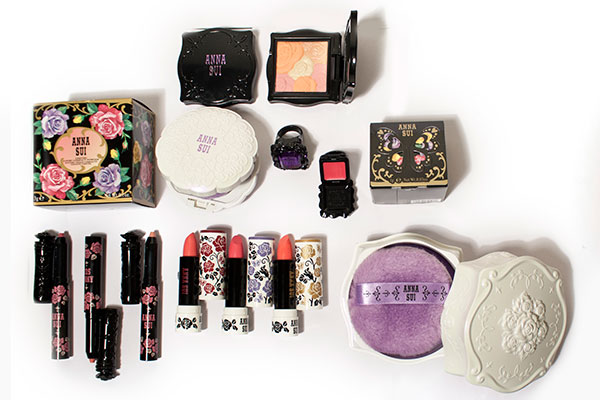 Spring makeup collection 2014
Limited loose powder compact powder $48
Protective loose powder $45
Anna Sui interview: 'If you have focus, you can defy everything'
(no date). Anna Sui interview - Asos - Shopping and Lifestyle - Time Out London. Available at: http://www.timeout.com/london/shopping/anna-sui-interview-if-you-have-focus-you-can-defy-everything (Accessed: 22 January 2015).
(no date f). Beauty World News. Available at: http://www.beautyworldnews.com/articles/6766/20131121/anna-sui-launches-minnie-mouse-makeup-with-disney-asos-limited-edition-holiday-anil-polish-lip-balm-hand-cream.htm (Accessed: 22 January 2015).
anna sui makeup
(no date). 0BC251BA275FCFB5D0505FEBC89F03B6. Available at: http://www.asos.com/search/anna-sui-makeup?q=anna sui makeup (Accessed: 22 January 2015).
Anna Sui's Spring 2014 Makeup is Too Cute to Pass Up
(no date). Anna Sui's Spring 2014 Makeup is Too Cute to Pass Up. Available at: http://www.beautyblitz.com/anna-sui-spring-2014-makeup (Accessed: 22 January 2015).
(no date d).

[DIGITAL IMAGE]

Available at: http://www.beautyblitz.com/sites/default/files/AnnaSui.jpg (Accessed: 22 January 2015).